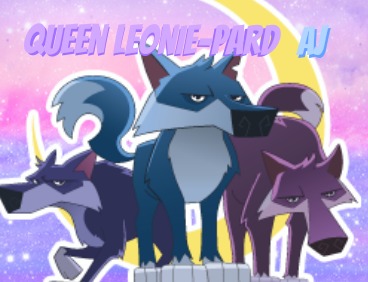 Basic Info
Last Login:
September 16, 2019
Member Since:
July 14, 2016
Membership:
Registered User
About Me
Hi guys! Its Leonie-Pard here, The queen of Minecraft and all that stuff! Thank you for liking and possibly commenting on my tutorials. Comment more to say which Lion king or Animal Jam character u want me to do next! However, don't get on my bad side; there will be consiquences!
Movies
The Lion King 1, 2 and 1 1/2, Ice Age 1, 2, 3, 4, Collision Course
Music
Digga Tunnah (The Lion King 1 1/2), Cheap Thrills (Sia ft Sean Paul),
I LIKE
Minecraft, Quotev. EyeToy Play, Pokémon, Pizza, leopards, The Lion King 2 (In my opinion the second lion king is the best). And Drawing Now!
I DON'T LIKE
The One Show, Being small, Washing up, Shopping, being too cold, I could go on forever!!!!!!!!!!!!
HOBBIES
Drawing, Minecraft (my username : Queen_LeoniePard, Rollar Skating and Quotev (user: AwesomeAnimal123), Pokémon (NOT POKEMON GO! ITS NOT THE ORIGINAL POKEMON!)
BOOKS
Anything from David Walliams, Bad girls (Jaquiline Wilson), Loads more that I wont be able to fit on this page XD