90,263
July 31, 2015 (Added)
2 (Comments)
One of the despicable me characters is Minion and today we will learn the basic stapes on how to draw such a good drawing. Check out our video step by step guide on how to draw a minion to be able to ...
Show More
Show Less

Step 1 - Start with a pencil, draw a circle and a rounded rectangle under it, notice that the rectangle is tilted to the right.
Step 2 - Add two elongates shapes for the hands and arms and add a line at the lower part of the minion's body.
Step 3 - Draw a rectangular shape above the line we added before and connect it with two suspenders above the arms.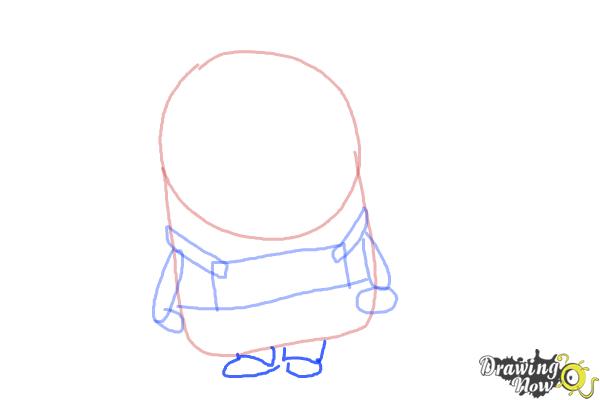 Step 4 - Sketch his short legs and add two small feet below.
Step 5 - Draw a circle and a bigger one around it, notice that the circles are more to the right side of his face and not in the center, connect the bigger circle to the sides of his face.
Step 6 - Sketch his hair, add a few rounded lines to the left and a few to the right.
Step 7 - Add a horizontal line in the middle of his spectacles, draw a small half circle on the right side and add a pupil inside. Draw another curved line below.
Step 8 - Keep drawing his mouth, the patch in the center of his overall and two more curved lines on the sides.
Step 9 - Trace your guidelines with a black pen or marker and erase the pencil lines after.
Step 10 - Color your drawing, you can add shadings as I did to give him a more realistic look.