117,533
September 12, 2015 (Added)
0 (Comments)
Hi everybody, today I'm going to show you how to draw the little prince from the new animated movie "The Little Prince". To start this tutorial you'll need a pencil and an eraser, watch the step by st...
Show More
Show Less

Step 1 - Start with an oval shape for the head and add two ears on the sides just below the middle of the face.
Step 2 - Draw a rectangle for the body and add another two lines for the lower part, continue the lines of the rectangle downwards.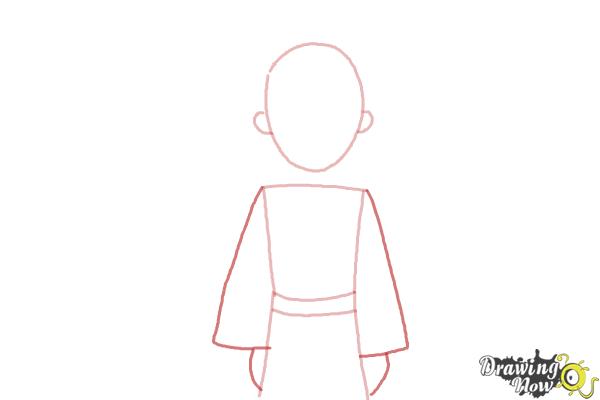 Step 3 - Draw a diagonal line from the shoulder and finish the line at the middle of the lower part we drew before, add a curved line for the hand. Do the same with his other arm and hand.
Step 4 - For his scarf we're going to draw a line starting in the middle point between the ear and the chin and finish it on the other side. Add two curved lines inside.
Step 5 - Continue drawing the scarf using a curved line from the neck and another from the middle of the arm, add two more diagonal lines and connect them to the first shape.
Step 6 - Start drawing the little prince hair with a long wavy line across the face and connect it to the point just above his head, add three more similar smaller shapes above.
Step 7 - Add more spikes on the right side until the ear, add couple of more big spikes on the left side.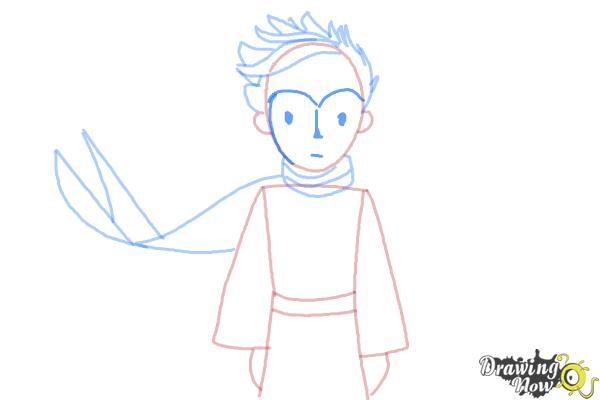 Step 8 - Draw the facial features, for the eyebrows use two curved lines and connect them to the sides of his face, continue drawing his small eyes, a triangle shaped nose and a small line for his mouth.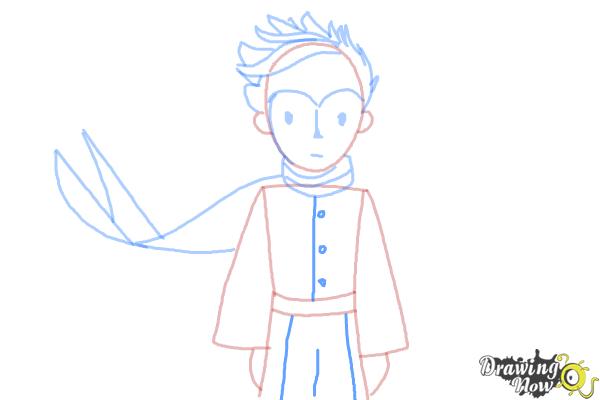 Step 9 - We're going to add a few details to his shirt, draw a vertical line in the center of his body and add 3 small circles on the right side. For the lower part draw three straight lines as in the image.
Step 10 - Trace your pencil lines using a black pen or marker. You can also print this coloring page of The Little Prince here.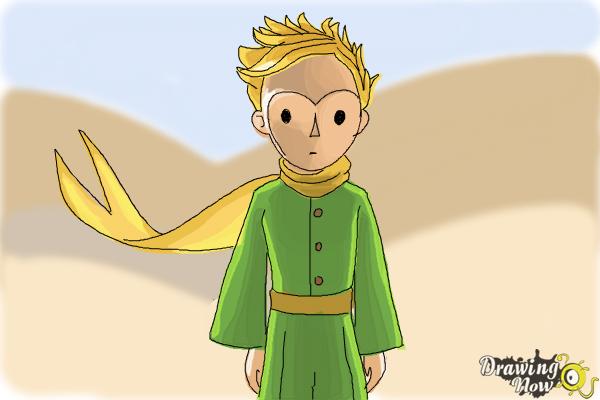 Step 11 - For the coloring part I used a few shades of green for his shirt and light green on the sides, for the face I used different shades of light and darker brown. You can follow the coloring technique by watching the final step in the video above.