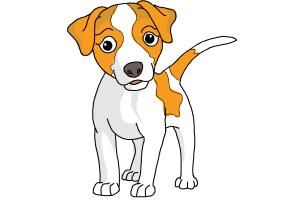 133,672
August 19, 2016 (Added)
0 (Comments)
Hi everyone, here's a step by step easy drawing tutorial of how to draw a dog, you can follow the st...
Show More
Show Less

Step 1 - Start your drawing with a pencil and draw a circle and a small trapezoid shape at the bottom for the dog's jaw.
Step 2 - Draw a vertical and horizontal lines at the center of the dog's face, add the ears at the top part of the circle, try to keep the ears symmetrical.
Step 3 - Draw an oval shape for the his body, start the line at the left side just below the circle and finish the line at the right side at the center of his jaw.
Step 4 - Draw the dog's two front legs keep in mind that they are longer than his body, draw the paws and divide them with 2 curved lines to three parts.
Step 5 - Keep your drawing with the dog's rear legs and paws, draw a long tail at the upper part of his body.
Step 6 - Draw his eyes using teardrop shapes and add smaller circles inside for the pupils. Sketch his eyebrows and a wavy line on the sides of his eyes.
Step 7 - Draw a rounded triangle for the nose at the bottom part of the circle and just below that draw his mouth. Start with a wide "W" shape and add two rounded lines below.
Step 8 - Trace your drawing with a black marker and erase the pencil sketches, fill the pupils in black.
Step 9 - Color your drawing, you can use a brown color for the face and spots. For the shadowing of his body and leg use a light grey color. Find more drawing tutorials in our how to draw a dog category or go to the next tutorial how to draw a dog face.