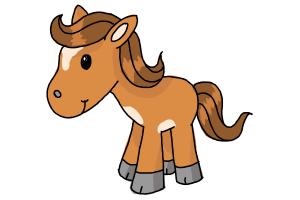 21,332
September 25, 2016 (Added)
0 (Comments)
Hi everyone, here's another version of how to draw a horse for kids, just follow the step by step vi...
Show More
Show Less

Step 1 - Start your drawing with the shape of the horse's face and add the eye at the upper part.
Step 2 - Add a small circle for the nostril and a curved line for his mouth.
Step 3 - At the upper right side of his head draw the ear and an oval inside.
Step 4 - Draw the shape of the mane and the other ear above.
Step 5 - Continue drawing the horse's mane and add parallel lines inside.
Step 6 - Draw the shape of the body and two legs, at the lower part of each leg draw a horizontal line and another small line for the hoof.
Step 7 - Draw another leg on the left side and between the legs we drew in the previous step.
Step 8 - Draw the shape of his tail and add two parallel lines inside.
Step 9 - Color your drawing, you can add a few white spots on his body and face and use different shades of brown to give the mane a more shiny look.