Basic Info
Last Login:
August 29, 2014
Member Since:
January 2, 2011
Membership:
Registered User
About Me

glitter-graphics.com
About me:
<table border="4" cellpadding="2" cellspacing="2" width="100%">
<tr>
<td>Hello</td>
<td>Thanks for viewing </td>
</tr>
</table>
<!-- HTML Codes by Quackit.com -->
I like anime, manga, and tons of cool Asian stuff. I'm an Asian as well, I draw lots and lots of anime and manga tutorials only just to help. Request me anything if you want your anime/manga request.I may be 11 but I have been practicing anime and manga ever since I was 9, 2 whole years right? Well, I draw cartoons when I was in kindergarten.
*I do not support tracing*
*I do not support stealing other people's artworks*
If you have any problems, message me-I'm always here to help. Or maybe if you want to have a little chat? I watch Hetalia, Skip Beat, and tons more anime. Mangas I usually read is some shounen-ai ones as well as romance, comedy, and a taste of school life.
I live in New York, America. I was born in Myanmar (aka Burma)-I am addicted to 2ne1
.And I love k-pop...hurr durrr. My most favorite type of genre is comedy
.
[url=http://www.glitter-graphics.com]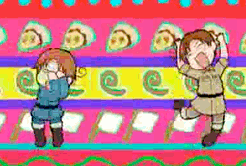 [/url]

glitter-graphics.com
Music
<bold> UGHHHH I added a TON of songs because I have free time lol </bold>
I listen to Asian music in general, I prefer Korean, Thailand, Japanese, Burmese, Chinese, etc. For Japanese it's Utada, M-Flo, Koda Kumi,Kat-Tun, DaDate Piko,Perfume, and some VOCALOIDS (I like it better if Nico Nico singers cover it). I don't have much experience with Japanese music but I just don't like those 'kawaii' ones.

glitter-graphics.com
I LIKE

glitter-graphics.com
A lot of things. For one, I am a tomboy so I like a lot of guy stuff (except wrestling which is...idk strange to me)
I like k-pop, most of it actually. I like music, which is everything to me. EVERYTHING.
♥♣♥
I DON'T LIKE
Sexists, Racists, any ists. Failed grades/tests, dreaded high school/college. Dealing with problems, I also don't like 70% of anime. I know I'm a manga artist (or practicing to be, as a hobby) but I have to say that most of the animes suck monkey balls. Those perverted animes like High School of the Dead, those too much fanservice animes...and the boring ones where the two characters talk to each other with no animation for 5 minutes. Naruto, I liked it before but now...it's just having too much fillers. I dislike wearing skirts, I dislike picky people.
♥♣♥ ♥♣♥
I also dislike my friends leaving me behind for other friends. It's my habit but I just dislike people who aren't Asian using Japanese words like 'kawaii desu ne' or 'Sasuke is kowaii!'. FACT: Japanese people don't use the word 'kawaii' a lot. It's alright if foreigners use Japanese words IN JAPAN. But please don't use it in any other country, it's just annoying.

glitter-graphics.com
HOBBIES

glitter-graphics.com
♥♣♥
...
Going on the computer? Drawing, sketching, collecting items. Playing video games. Writing stories/poems.

glitter-graphics.com
BOOKS

glitter-graphics.com
Reading manga, classics such as Tom Sawyer, and tons of books.
♥♣♥

glitter-graphics.com